Our St Johns Brook is a significant vineyard of 40 hectares located in the northern heartland of the Margaret River wine region. St Johns Brook is a mature vineyard established in 1998. Since 2013 we have employed no herbicide practice, used low chemical inputs where possible, and implemented our own sustainable composting program.
Varieties planted are all on original rootstock with the key French varieties of Cabernet Sauvignon, Shiraz, Chardonnay and Sauvignon Blanc providing the finest fruit for our Single Vineyard and Reserve range of wines.
Our Wines have Three Distinct Tiers:~

Our Reserve wines are barrel selected to create wines of elegance, intimate finesse, and drive on the palate. Our Reserve wines will be rewarded with careful cellaring over the next 2-5 years.
Varietals ~ Chardonnay, Cabernet Sauvignon & Shiraz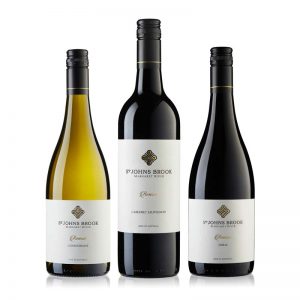 Our eminently stylish Single Vineyard wines are craft to be our families "go to" wines. All fruit is sourced from our single site in Margaret River. We have a passion for Chardonnay. Any day is a good day for Chardonnay.
Varietals ~ Chardonnay, Cabernet Sauvignon & Shiraz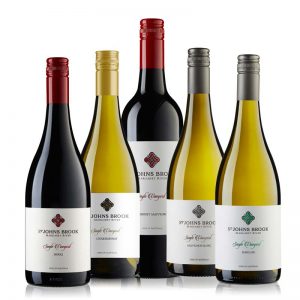 [reh-colt] The harvest of estate grown fruit
This wine is crafted to emulate the fruit driven great Chablis wines of Burgundy. Having a prominence of clean fruit flavours and a fresh and zesty palate.
Varietals ~ Sauvignon Blanc Semillon, Chardonnay, Rosé, Cabernet Sauvignon, Cabernet Merlot & Shiraz